A new rumor circulating Chinese social media suggests that Oppo might be bringing back its N series line of premium smartphones. For context, this was the maker's flagship assortment of Android phones dating back to 2013's Oppo N1 – the first Android phone with a rotating camera and also the first that could officially boot CyanogenMod.
Check out this Flashback article which covers the N1 in more detail. The device was followed by the Oppo N3 in 2014 but the N line ultimately was phased out in favor of Oppo's other smartphone lines.
#DigitalChatStation
I don't know if anyone remembers the OPPO N series that is born to turn. pic.twitter.com/dABR8h7ePm

— Digital Chat Station (@chat_station) August 23, 2021
Noted tipster Digital Chat Station first teased the return of Oppo's N series yesterday via Twitter. A new post on Weibo via @Arsenal fills in more details suggesting the new N series phone will compete in the premium segment, priced at around CNY 4,000 ($618) and would be positioned between the Find X series and the Reno line.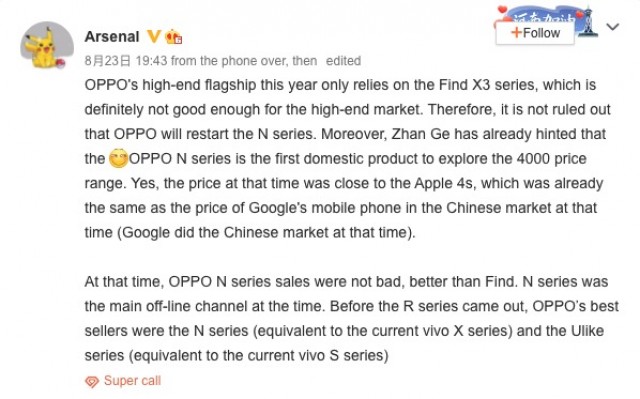 @Arsenal post on Weibo (machine translated)
Keep in mind that these are still early rumors and there is still no official statement from Oppo's side on the possibility of the N line making a comeback.